Walton, Kathryn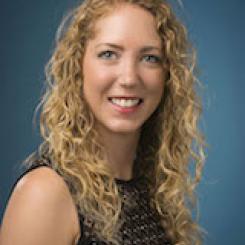 Research Focus:
Childhood obesity, parent-child feeding interaction
Research Area: Kathryn Walton is a registered dietitian whose primary research interest is the prevention of childhood obesity. Within this, her current research focuses on the home environment and parent-child feeding interactions during family meals. 
Academic Background: Kathryn Walton is a PhD Candidate in the Department of Family Relations & Applied Nutrition at the University of Guelph, Guelph Ontario. She also received her BASc in Applied Human Nutrition and her MSc. from the University of Guelph. Kathryn completed a Dietetic Internship at Sunnybrook Health Sciences Centre in Toronto, Ontario.
Research Interests
Childhood obesity prevention and intervention
Child dietary intake and nutrition risk
Parent feeding practices
Family meals
Parenting stress
Healthy home environments
Current Research:
Kathryn leads the Family Mealtime Observation Study (FaMOS) which is focused on understanding parent-child feeding interactions during family meals. Using novel, direct observation methods, FaMOS aims to provide a clearer understanding of the association between parent feeding practices, parent-child interactions and children's dietary intake as well as their resulting weight status. FaMOS has received funding from the Canadian Foundation for Dietetic Research (CFDR).Kathryn also works as a health educator on the Guelph Family Health Study (https://www.uoguelph.ca/gfhs/) where she is focused on study engagement and participant retention. Using a novel method of integrated knowledge translation (iKT), she facilitates a family council made up of parent participants that meet regularly to provide input on study method and procedures. Kathryn's advisory committee includes: Advisor- Dr. Jess Haines (U of G), Committee Members: Dr. Andrea Breen (U of G) & Dr. Emma Haycraft (Loughborough University, UK)
Recent Publications:
Walton K, Kuczynski L, Haycraft E, Breen A & Haines J. Time to re-think picky eating?: a relational approach to understanding picky eating. IJBNPA. 2017; 14: 62. doi 10.1186/s12966-017-0520-0. 
Abstract: https://www.ncbi.nlm.nih.gov/pmc/articles/PMC5420103/
Roke K, Walton K, Klingel SL, Harnett A, Subedi S, Haines J & Mutch DM. Evaluating Changes in Omega-3 Fatty Acid Intake after Receiving Personal FADS1 Genetic Information: A Randomized Nutrigenetic Intervention. Nutrients. 2017; 9: 240. doi:10.3390/nu903024
Abstract: https://www.ncbi.nlm.nih.gov/pubmed/28272299
Walton K, Kleinman K, Rifas-Shiman S, Horton N, Gillman MW, Field AE, Austin SB, Neumark-Sztainer D & Haines J. Secular Trends in Family Dinner Frequency among Adolescents. BMC Res Notes. 2016; 9: 35. doi 10.1186/s13104-016-1856-2.
Abstract:  https://www.ncbi.nlm.nih.gov/pubmed/26795723
Haines J, Rifas-Shiman, Horton NJ, Kleinman K, Brauer KW, Davison K, Walton K, Austin SB, Field AE, Gillman MW. Family functioning and quality of parent-adolescent relationship: Cross-sectional associations with adolescent weight-related behaviors and weight status. IJBNPA. 2016; 13:68. doi:10.1186/s12966-016-0393-7.
Abstract: https://www.ncbi.nlm.nih.gov/pmc/articles/PMC4908682/
Morrongiello B, Hou S, Bell M, Walton K, Filion AJ & Haines J. Supervising for Home Safety Program: A Pilot Randomized Controlled Testing Community-Based Group Delivery. J Pediatr Psychol. 2016; 41: doi: 10.1093/jpepsy/jsw083.
Abstract: https://teamabc3.files.wordpress.com/2016/10/morrongiello-et-al journal-of-pediatric-psychology-2016.pdf
Walton K, Filion AJ, Gross D, Morrongiello B, Darlington G, Randall Simpson J, Hou S, Haines J. Parents and Tots Together: A randomized controlled trial of a family-based obesity prevention intervention in Canada. CJPH. 2015;106 (8), doi 10.17269/CJPH.106.5224 
Abstract: http://journal.cpha.ca/index.php/cjph/article/view/5224
Walton K, Randall Simpson J, Darlington G & Haines J. Parenting Stress: a cross-sectional analysis of associations with childhood obesity, physical activity and TV viewing. BMC Pediatrics. 2014;14: 244. doi:10.1186/1471-2431-14-244.
Abstract: https://www.ncbi.nlm.nih.gov/pmc/articles/PMC4194416/
Grants or Funding​
The Family Mealtime Observation Study (FaMOS) is funded by a New Researcher Grant from the Canadian Foundation for Dietetic Research (CFDR).
Ontario Graduate Scholarship
Social Media Profiles
Research Gate: https://www.researchgate.net/profile/Kathryn_Walton
LinkedIn: https://www.linkedin.com/in/kathryn-walton-msc-rd-04702a54/