Robin Milhausen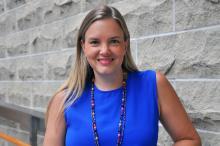 Department of Family Relations & Applied Nutrition
Office:
Macdonald Institute, Room 227C
My research has two foci – first, understanding factors that enhance sexual and relationship satisfaction, and second, investigating factors that promote condom use and sexual health.  Related to the first, I have used quantitative and qualitative research methods to investigate factors that inhibit and enhance sexual arousal and desire, such as body image and relationship duration, among heterosexual men and women, sexual minority women, midlife adults, university students and more. I am particularly interested in learning about ways we can "keep the spark alive" in long-term relationships.  Since my PhD in Applied Health Science, I have also studied factors associated with sexual risk-taking, and predictors and correlates of condom use.  I am a member of the international Kinsey Institute – Condom Use Research Team.  We have developed a series of interventions to increase correct and consistent condom use which we have tested among men who have sex with men, heterosexual women, and currently, among heterosexual couples.  Almost all of my research projects and publications include student collaborators, and helping to get undergraduate and graduate students excited about the research process is one of my most important research aims.
PhD (Health Behavior) - Indiana University, 2004
Masters (FRAN) - University of Guelph, 2000
Milhausen, R. R., McKay, A., Graham, C. A., Sanders, S. A., Crosby, R. A., Yarber, W. L., & Wood, J. (online first). Do associations between pleasure ratings and condom use during penile-vaginal intercourse vary by relationship type: A study of Canadian university students. Journal of Sex Research.
McKay, A., Quinn-Nilas, C., & Milhausen, R. R. (2017). Prevalence and correlates of condom use among single midlife Canadian women and men aged 40-59.  Canadian Journal of Human Sexuality, 26(1), 38-47.
Murray, S. H., Milhausen, R. R., Graham, C. A., & Kuczynski, L. (2017). A qualitative exploration of the factors that affect sexual desire among men 30-65 in long-term relationships. Journal of Sex Research, 54(3), 319-330.
What are the qualities of a student who would be successful in your lab?
A successful student on my research team is driven by curiosity to understand factors at play in sexuality in relationships. I aim to get students involved with research beyond their thesis, and to foster collaborations between students in my research group.  A love of quantitative data analysis is a strength – or an interest in developing skills in this area.  Also, I do much of my work in coffee shops, so an interest in caffeine and pastries is an asset.
How would you describe your mentoring style? (e.g. hands-on/off)
I work closely with my graduate students, typically working together once a week.  Often my students and I work alongside (at a coffee shop).  I find this is an efficient way to give feedback and tackle challenges in the research process.
Is there anything else you'd like your potential students to know? (include things like opportunities for funding/conferences/publication etc)
I think attending conferences (and presenting if possible) is the best thing a student can do for their academic career.  I will be attending the Canadian Sex Research Forum in Fredricton, New Brunswick this fall, and I am co-Chairing the Society for the Scientific Study of Sexuality's Annual Meeting in San Juan, Puerto Rico and the Guelph Sexuality Conference happening on campus this June.
Sexual health among midlife Canadians – findings from a national sample (specific analyses on sexual problems, sexual and relationship satisfaction, masturbation, and features of sexual quality)
Sexual and relationship experiences among individuals in multi-partnered relationships
Body image and sexual functioning and satisfaction