Laura Forbes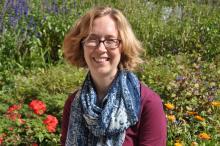 Department of Family Relations & Applied Nutrition
Office:
Macdonald Stewart Hall, Room 326
Dr. Forbes completed a Bachelor of Science in Nutrition with Honours at Acadia University (2004), a PhD in Nutrition and Metabolism at the University of Alberta (2009), a Dietetic Internship with Alberta Health Services (2010) and a Postdoctoral fellowship (2011-2012) at the University of Alberta.
Dr. Forbes' research program has combined clinical and community nutrition research methods to focus on dietary intake during key developmental periods (adolescence, pregnancy) with the goal of preventing chronic disease, specifically, diabetes and obesity. During her Ph.D. program, she investigated dietary and physical activity risk factors for type 2 diabetes in healthy and obese Alberta youth and in those with type 2 diabetes. In one study, she was the first to show a link between high glycemic index diets of adolescents and lower insulin sensitivity. Dr. Forbes is continuing to examine links between carbohydrate intake and health effects in her current work on the Sweet Moms Study. This project examines the effects of dietary sugar intake during pregnancy on the health of mothers and infants; particularly weight gain, birth weight, gestational diabetes and pre-eclampsia.