Adam Davies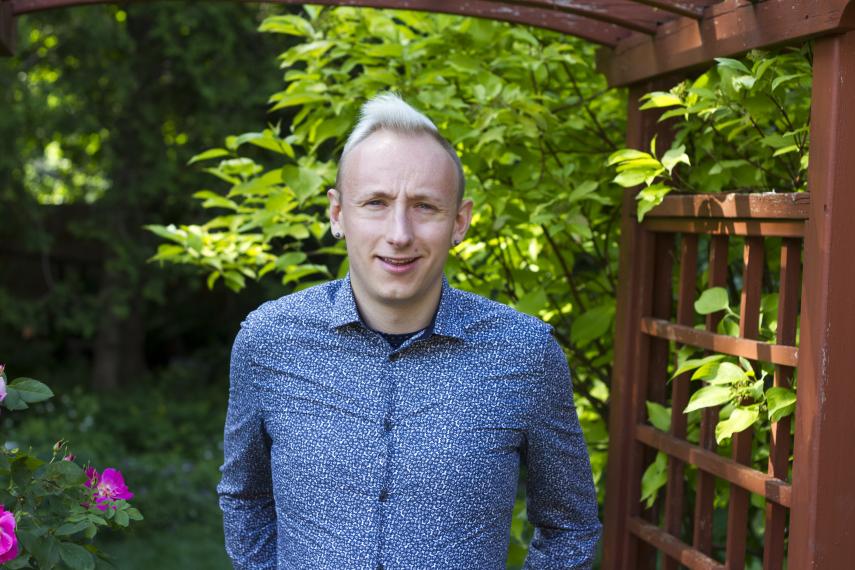 Department of Family Relations & Applied Nutrition
Office:
Room 326, Macdonald Stewart Hall (MACS)
As a queer and feminist qualitative researcher, I hold a few unique and distinguishable research interests, with my research being situated within early childhood education, K-12 schooling, and queer intimacies and social media. Much of my research utilizes queer, feminist, and poststructural lenses to address issues of gender policing as it pertains to children and youth, as well as queer men. My doctoral dissertation research focused upon the politics of feelings and affect, emotional connections and intimacies, and queer masculinities within gay social networking applications and technologies. My other work is related to the experiences of LGBTQ+ children and youth in the early years and K-12 schooling; inclusion for children with disabilities; and, sexuality education. I am an Ontario Certified Teacher (K-6) and Registered Early Childhood Educator.
While much of my research is related to the early years and K-12 schooling, I am also interested in questions of masculinities studies and queer intimacies, particularly as it pertains to gay, bisexual, and queer men, as well as accessibility and inclusion for individuals with disabilities. I would welcome students who are interested in LGBTQ+ and disability-related issues largely as much of work employs the theoretical frameworks of queer theory and critical disability studies. I am passionate about inspiring students to explore unique research questions through critical theory and socio-cultural lenses. I supervise students interested in quantitative, mixed-methods, qualitative, and post-qualitative methods. I am interested in working with students who are excited about engaging with critical theory and cultural studies within their respective works.
PhD in Curriculum Studies & Teacher Development & Sexual Diversity Studies & Women & Gender Studies - Ontario Institute for Studies in Education, University of Toronto, 2016 - 2020
MA in Child Study and Education - Ontario Institute for Studies in Education, University of Toronto, 2014-2016
Davies, A. W., & Kenneally, N. (2020). Cripping the controversies: Ontario rights-based debates in sexuality education. Sex Education, 20(4), 366-382. https://doi.org/10.1080/14681811.2020.1712549
Davies, A. W. (2020). " Authentically" Effeminate? Bialystok's Theorization of Authenticity, Gay Male Femmephobia, and Personal Identity. Canadian Journal of Family and Youth/Le Journal Canadien de Famille et de la Jeunesse, 12(1), 104-123. https://doi.org/10.29173/cjfy29493
Davies, A. W., Souleymanov, R., & Brennan, D. J. (2019). Imagining Online Sexual Health Outreach: A Critical Investigation into AIDS Service Organizations Workers' Notions of 'Gay Community'. Social Work in Public Health, 34(4), 353-369. https://doi.org/10.1080/19371918.2019.1606755
Maich, K., Davies, A. W., Penney, S. C., Butler, E., Young, G., & Philpott, D. F. (2019). Young Children with Autism Spectrum Disorder in Early Education and Care: The Earlier We Begin Together, The Better. Exceptionality Education International, 29(3), 77-91. https://ir.lib.uwo.ca/eei/vol29/iss3/6/
Davies, A. W., Vipond, E., & King, A. (2019). Gender binary washrooms as a means of gender policing in schools: A Canadian perspective. Gender and Education, 31(7), 866-885. https://doi.org/10.1080/09540253.2017.1354124
Maich, K., Davies, A. W., & Sohrabi, T. (2019). Autism spectrum disorder and maternal employment barriers: A comprehensive gender-based inquiry. Canadian Journal of Family and Youth, 11(1), 104-135. http://dx.doi.org/10.29173/cjfy29463
McKie, R. M., Davies, A. W., Nixon, K. D., & Lachowsky, N. L. (2019). A theoretical examination using governmentality to understand gay men's risk and sexual behaviours. The Canadian Journal of Human Sexuality, 28(3), 343-354. https://doi.org/10.3138/cjhs.2018-0034
Maich, K., Davies, A. W., & van Rhijn, T. (2019). A relaxation station in every location. Intervention in School and Clinic, 54(3), 160-165. https://doi.org/10.1177/1053451218767916
Balter, A. S., van Rhijn, T., & Davies, A. W. (2018). Equipping early childhood educators to support the development of sexuality in childhood: Identification of pre-and post-service training needs. The Canadian Journal of Human Sexuality, 27(1), 33-42. https://doi.org/10.3138/cjhs.2017-0036
Balter, A. S., van Rhijn, T. M., & Davies, A. W. (2016). The development of sexuality in childhood in early learning settings: An exploration of early childhood educators' perceptions. The Canadian Journal of Human Sexuality, 25(1), 30-40. https://doi.org/10.3138/cjhs.251-A3